The water is a source of life, strength and energy, but that of Ischia is much more than that. Let yourself be pampered by the various thermal parks of our beautiful island which, with its thermal and healing water, gives its visitors a holiday dedicated to relaxation and well-being.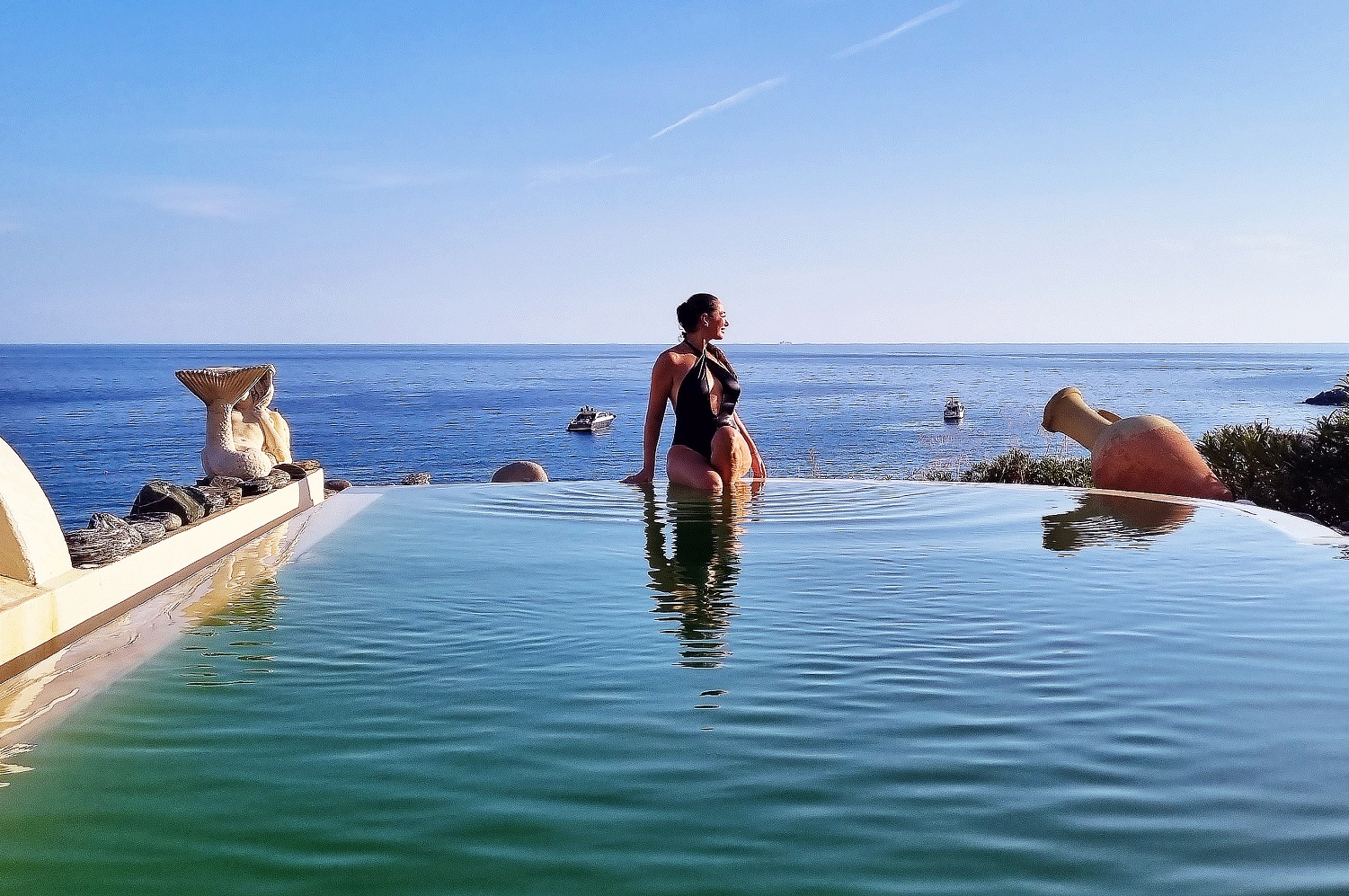 DAY SPA & FEED EXPERIENCE
A combination of pleasures that combines mental and physical well-being to the joys of the palate, and just a few steps from the Hotel Villa Bina di Sant'Angelo d'Ischia
Started with "taxi boat" direction FUMAROLE OF ISCHIA (€ 3 per person)
Entrance to the small thermal park with swimming infinity pools overlooking the panorama of the Maronti beach, natural sauna and caves with pools covered with mosaics and Greek/Roman statues, Kneipp path and sunbeds and umbrella to relax in the solarium (€ 20 per person)
Lunch at the FUMAROLA: delicacies of land or sea cooked without fires and stove but under the hot sand of the "fumaroles". The plus is that the foods retain all the nutritional properties and are tasty for the joy of every palate (price per consumption)
Back in Electric Golf Car, passing through the flowery and panoramic alleys of the Sant'Angelo's hill, between houses and grape clusters churches that make the scenery fairy-tale and enchanting (€ 4 per person)
Bay of Sorgeto
It is not a park, but a splendid inlet with natural pools of thermal water, open 24 hours and completely free, where you can swim all year round thanks to the high temperature of its water. The bay is characterized by the presence of hot and mineral springs, saunas and therapeutic vapors. It is half-moon shaped, surrounded by rocky walls and is divided into stone basins where the thermal water flows. The thermal waters communicate directly with the sea, thus creating a single area where fresh and salt, hot and cold water meet.

FROM HOTEL VILLA BINA:
Taxi Boat (from June to September) € 5 per person
Bus n. 1 or CS to Panza - continue on foot for 1.5 km then 250 stairs to Sorgeto's Bay 
Taxi € 15.00
Car or scooter 10 min.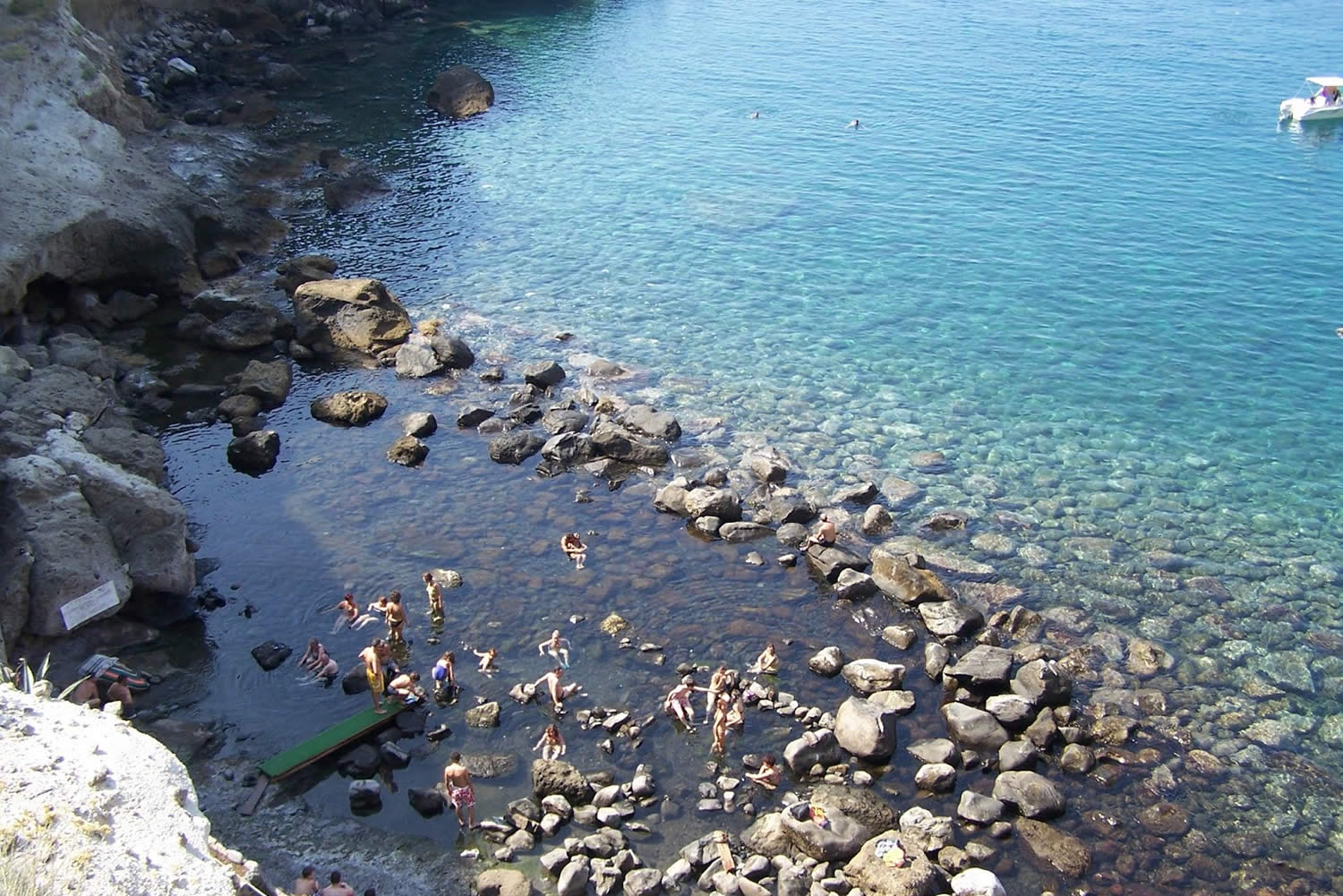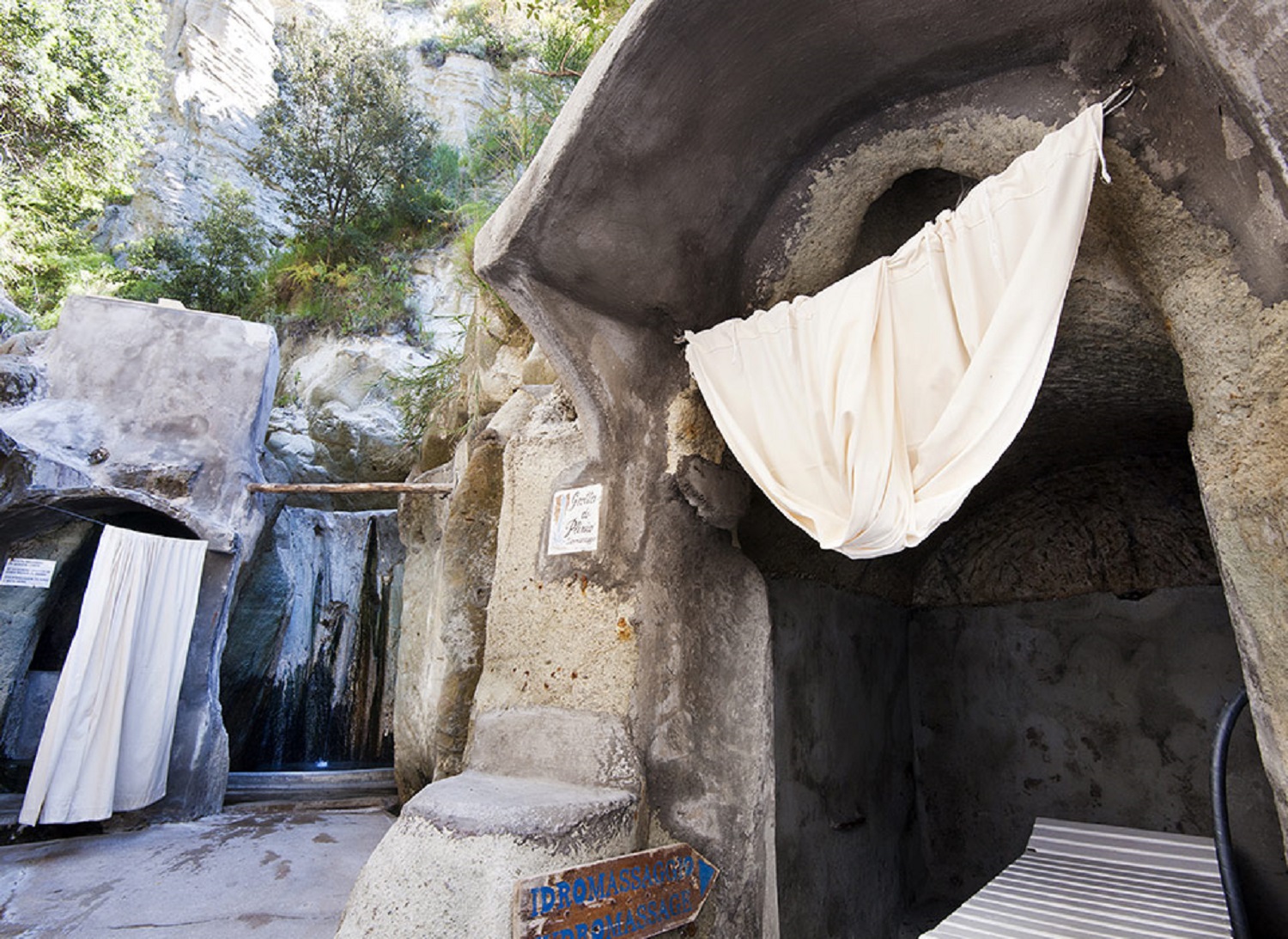 The thermal park of Cavascura
Dating from the times of the Greeks and loved by the Romans, it is a hydrological basin in its natural state dug into the living stone of a valley. In Cavascura it is possible to relive the ancient times because it still preserves its caves, its small waterfall, its boiling springs that continue to come down from the mountain at a very high temperature. Here you can enjoy the benefits of thermal mud treatments and the hot thermal waters of the natural spring of Cavascura.

Opening time::
8:30 – 18:00
Ticket € 20,00

FROM HOTEL VILLA BINA:
10 minutes on foot to the Port of S.Angelo + Taxi Boat € 4 to the Cavascura's stop
Fonte delle Ninfe di Nitrodi
To the south of the island, in the Buonopane area, in the midst of the greenery of the typical flora of the Mediterranean scrub, this is where you will find the Fonte delle Ninfe di Nitrodi park. Dating form the Greek colonization, for thousands of years it has been a destination for people seeking treatment for their illnesses. In fact, the water in this park is highly curative and is often used for various skin diseases, such as psoriasis.

Opening time::
9:00 - 19:00 (full day)
14:30 - 19:00 (half day)

Rates::
Full day 25 €
Half day 15 €
Children 50% discount

FROM HOTEL VILLA BINA:
CD bus
Taxi € 30,00 
Car or scooter 20 min.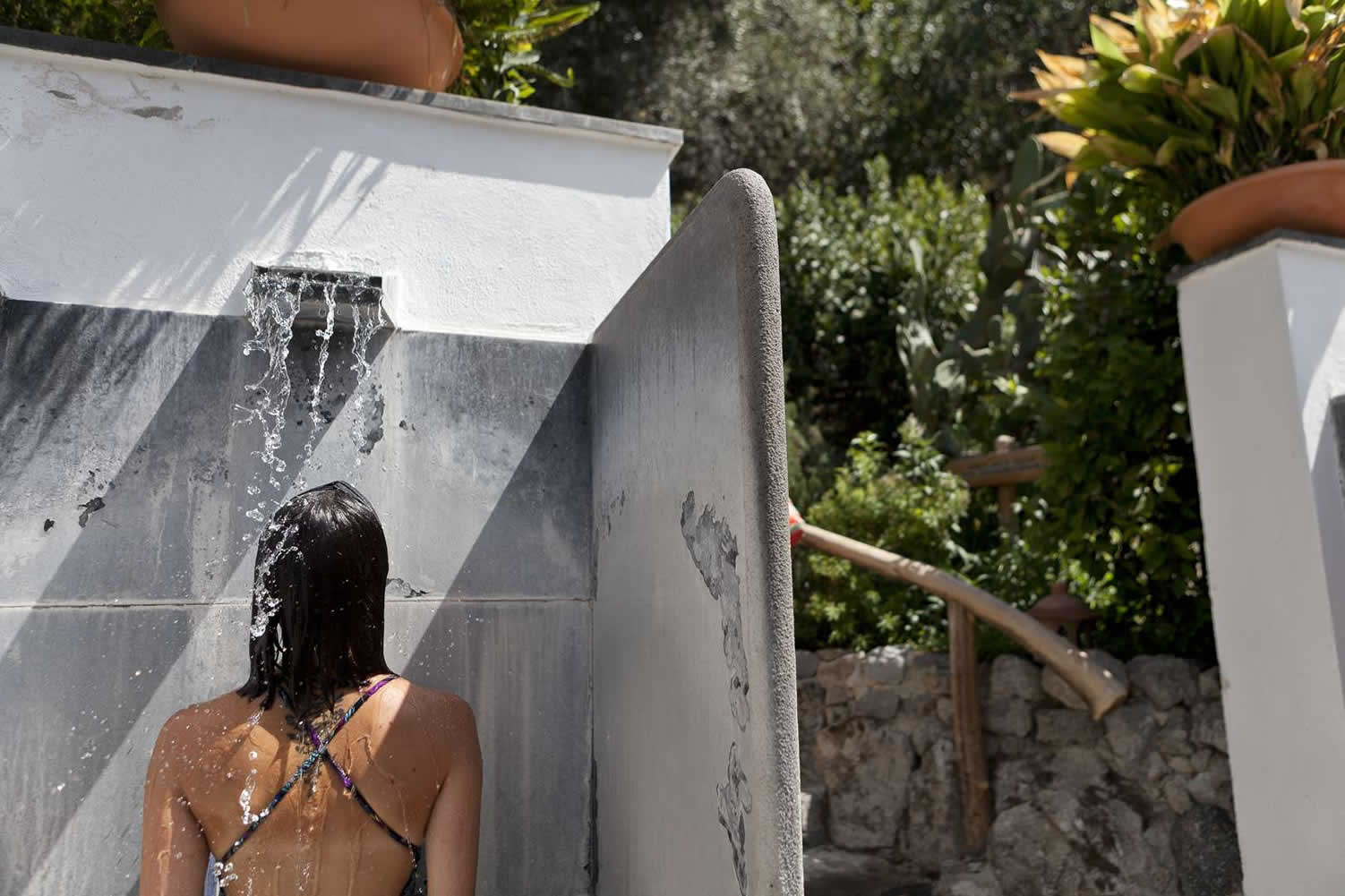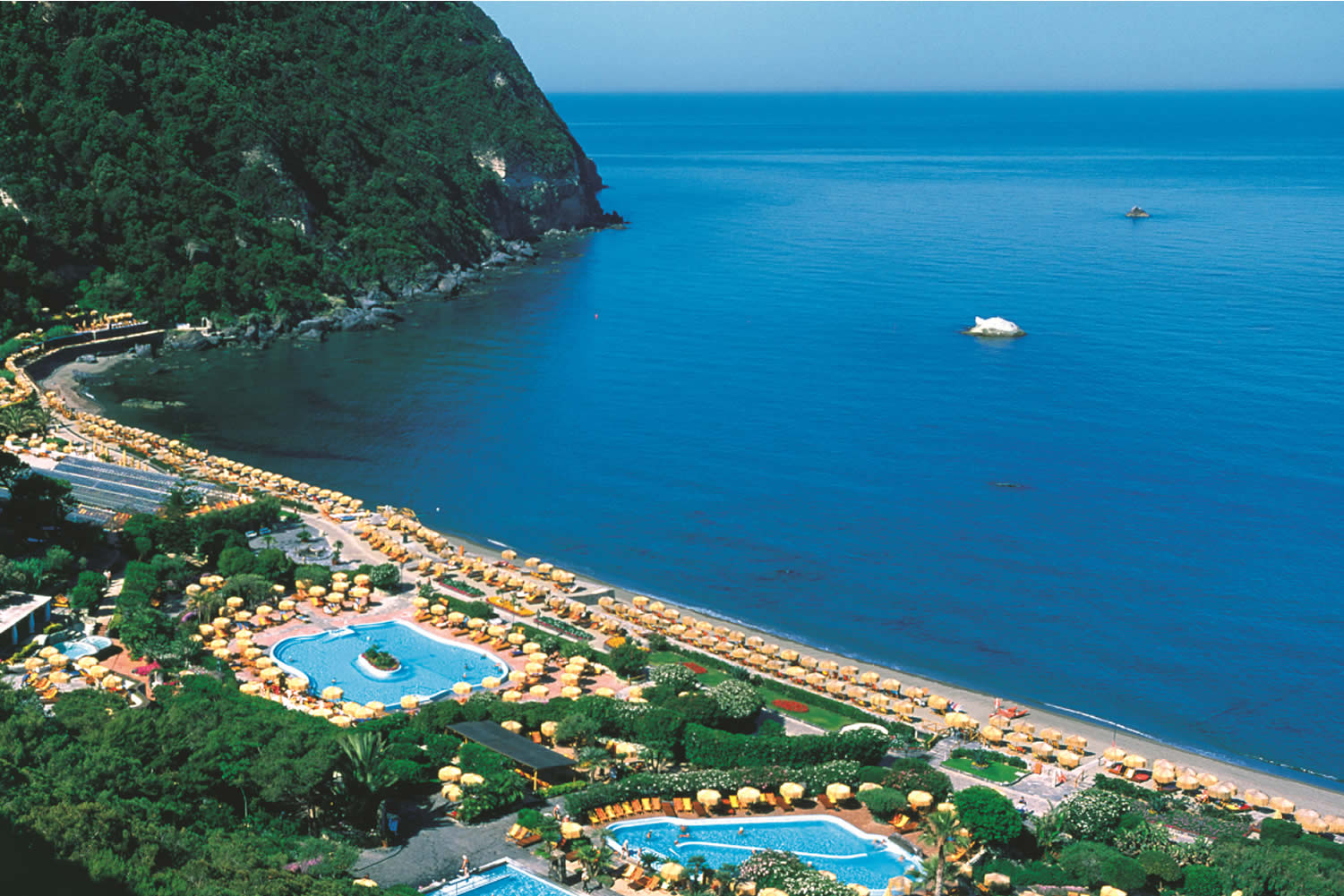 Giardini Poseidon
Giardini Poseidon Forio d'Ischia, is the largest and oldest Thermal Park on the island. Inside, You can admire the splendid vegetation that surrounds the 22 thermal pools of different sizes and temperatures, with a wellness centre and adjoining beach in the most evocative corner of Citara beach, in the shadow of Punta Imperatore. And in order not to miss anything, with its three dining option You can also take Your palate on vacation, with dishes from the freshest and Mediterranean products.
Opening time::
Full day 9:00 - 19:00
Half day 13:00 - 19:00
Rates::
Adults: € 40 for the whole day, € 35 for a half day
Children until 11 years old: 50% discount
Babies from 0 to 3 years old: free
Extra charge of € 5 deposit for the bracelet that allows entry to the various services

FROM HOTEL VILLA BINA:
Bus n. 1 or CS - Exchange n. 2
Taxi € 20.00 
Car or scooter 20 min.
The Negombo
In the sandy bay of San Montano and surrounded by a green area of ​​over 9 hectares, the Negombo park is a place of well-being, known for its quiet and relaxing atmosphere. Inside You will find pools of highly mineral and hyperthermal water, rich in natural salts, and a splendid beach with a wide arch and fine sand. The Negombo park is also keen to guarantee You a unique gastronomic experience with fresh and typical products of the area on a splendid panoramic terrace, or in Jack's rustic trattoria who will prepare traditional dishes "as mom teaches". 

Opening time::
8:30 - 19:00 (full day)
14:00 - 19:00 (half day)
15:30 - 19:00 (afternoon)

Price for 2 adults: 80 € (full day), 58 € (half day), 50 € (afternoon)
Price for 1 adult: 65 € (full day), 47 € (half day), 40 € (afternoon)
Children: € 25 (full day), € 23 (half day), € 21 (afternoon)
Villa Bina Discount € 3,00 per person
FROM HOTEL VILLA BINA:
Bus n. 1 or CS + 10 minutes walking
Taxi € 30,00 
Car or scooter 30 min.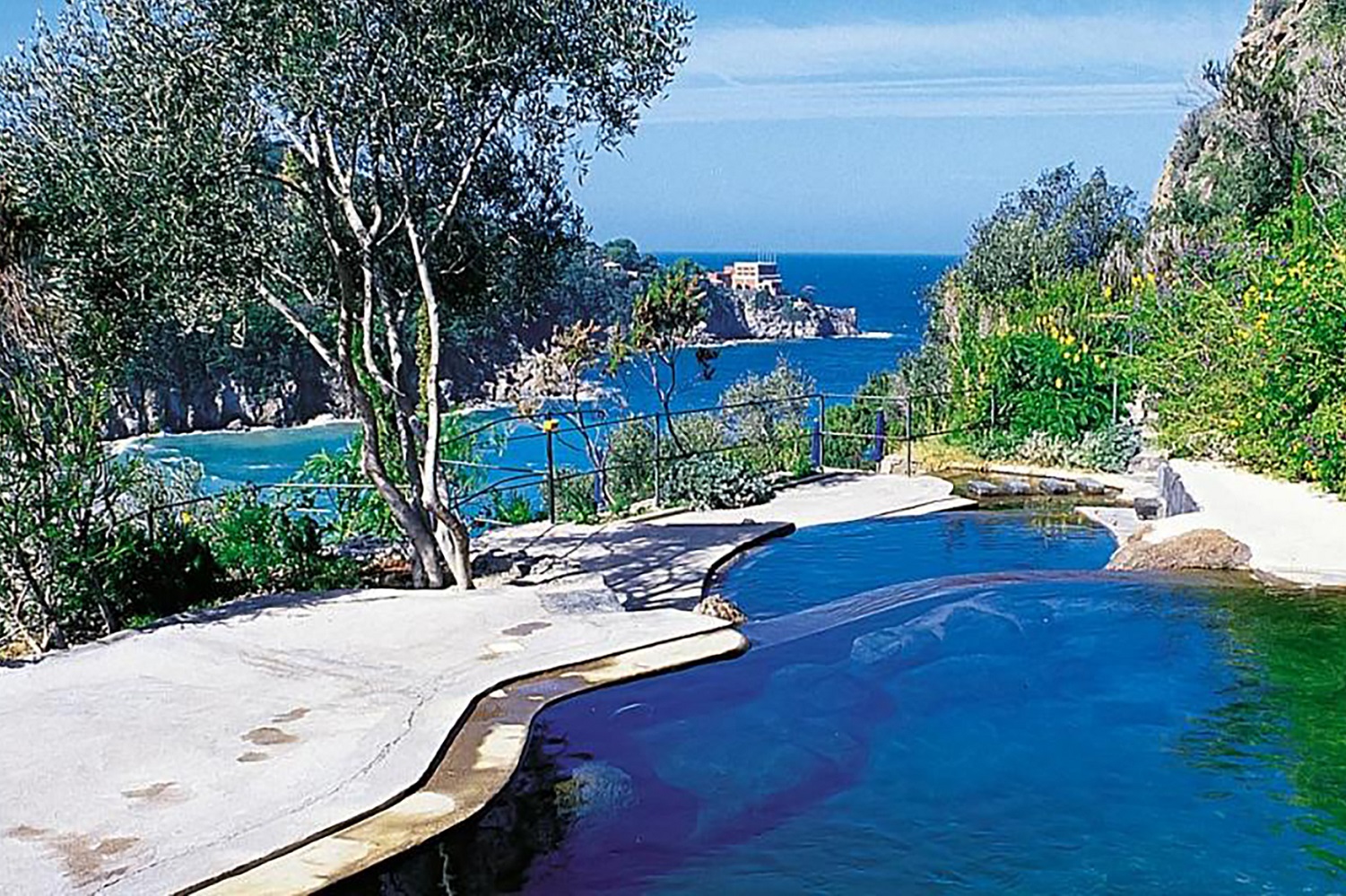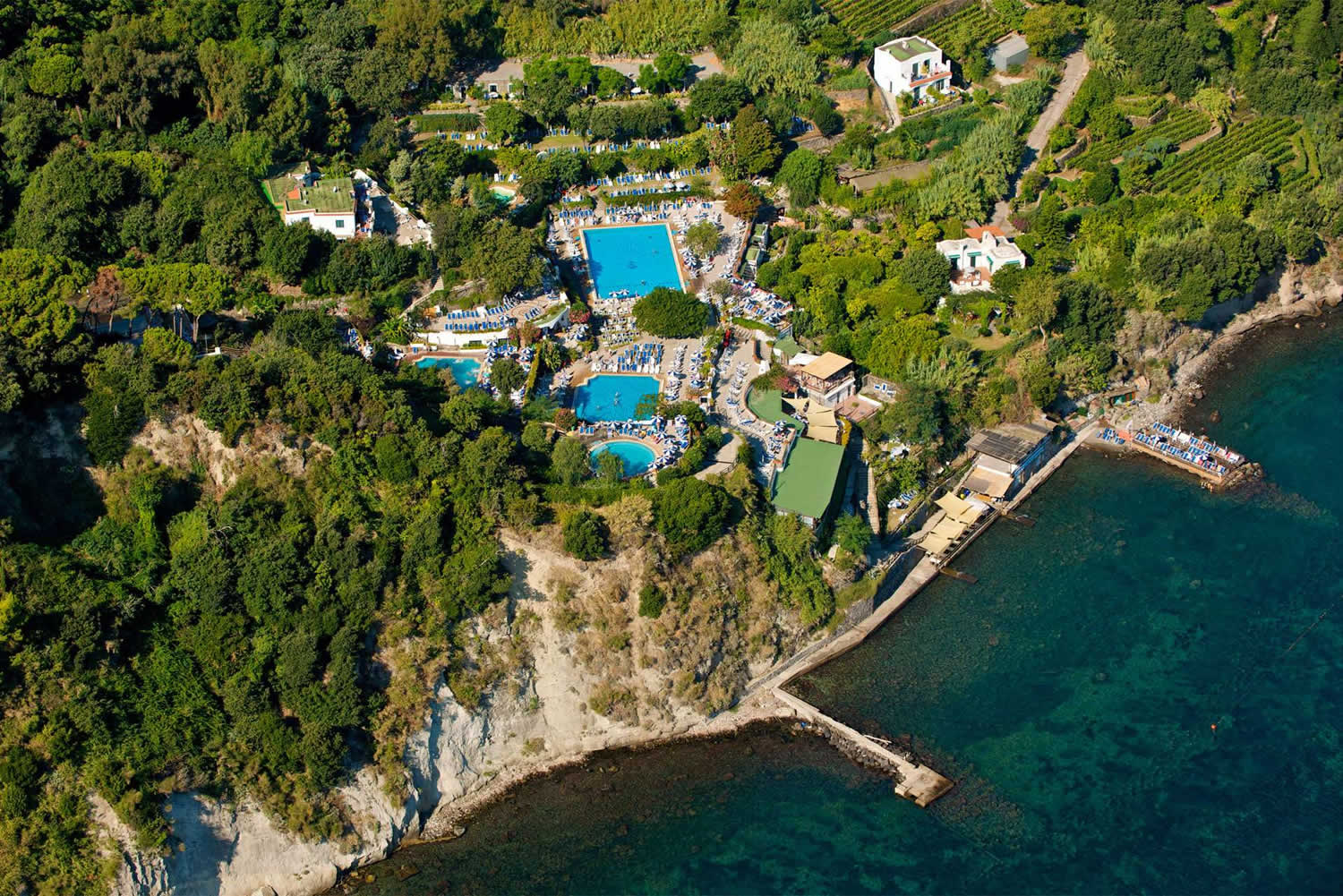 Castiglione thermal park
An oasis of peace and silence with a splendid view of the Gulf of Naples in the most luxuriant vegetation awaits you at the Il Castiglione thermal park. It has 10 thermal pools fed by its homonymous spring and a fantastic wellness centre. This little corner of paradise will guarantee you absolute relaxation with its treatments based on the properties of thermal waters. You can also delight in their excellent Mediterranean cuisine on the terrace overlooking the sea.

Opening hours::
From 10:00 to 18:00

FROM HOTEL VILLA BINA:
Bus n. 1 or CS
Taxi € 35,00 
Car or scooter 35 min.
O' Vagnitiello
Surrounded by the Mediterranean scrub and overlooking a turquoise sea, it is the ideal place for a day of relaxation and tranquillity. A small and welcoming park, with four pools enriched by artificial waterfalls and the possibility of taking care of yourself in their wellness centre..

Opening time::
9:00 - 17:30 full day
14:00 - 17:30 half day

Rates::
€ 25 full day
€ 20 half day
 
FROM HOTEL VILLA BINA:
Bus n. 1 or CS 
Taxi € 30,00 
Car or scooter 30 min.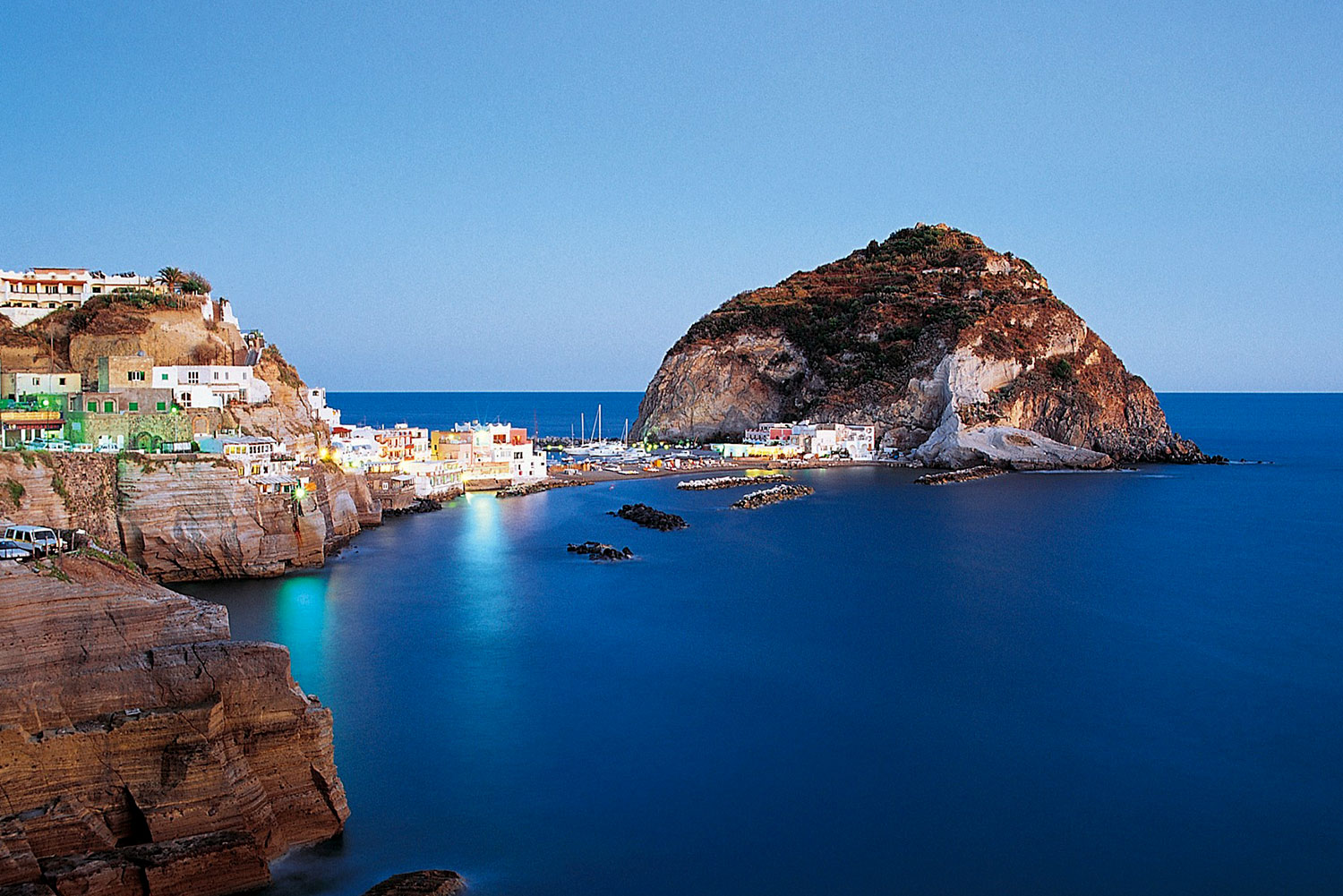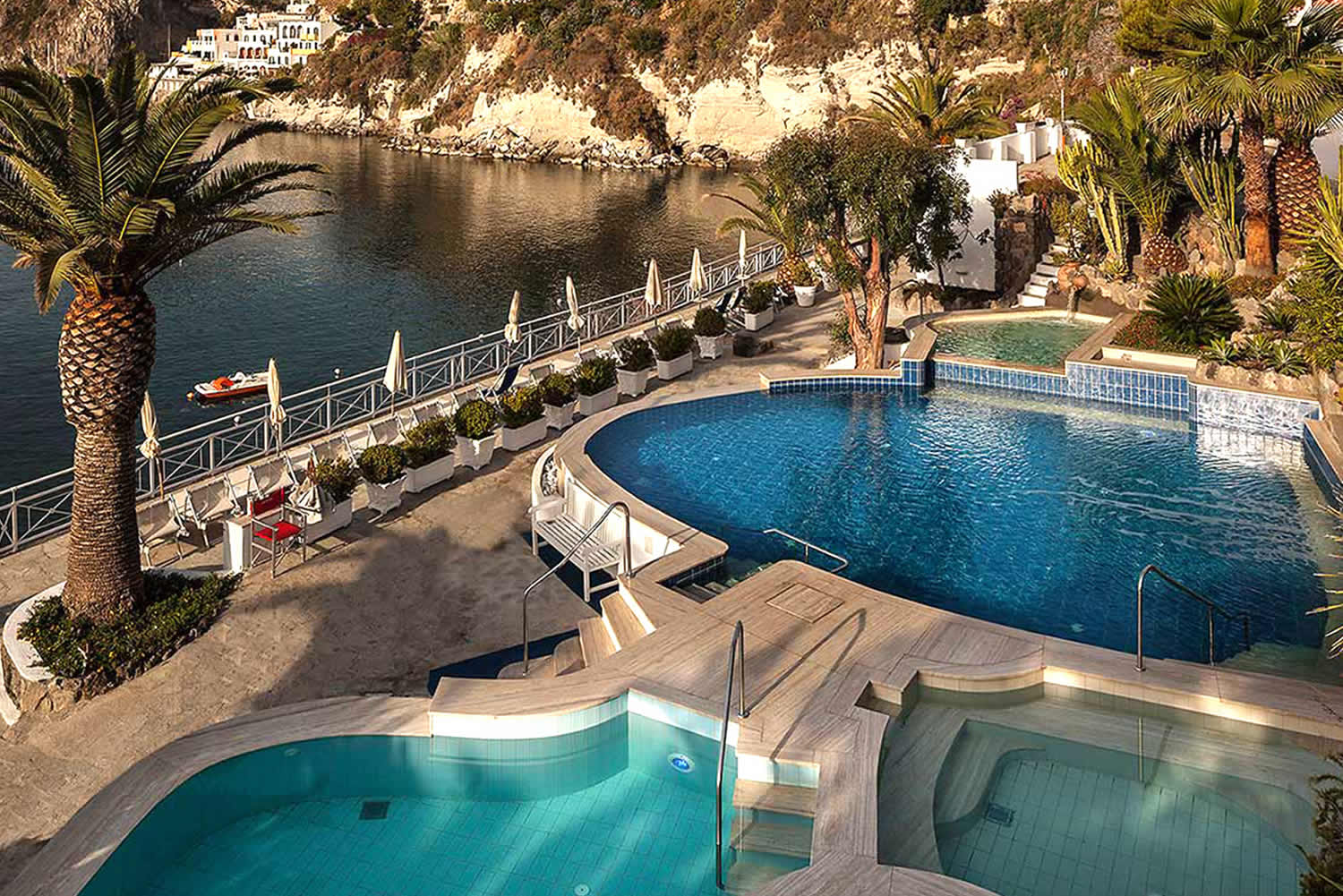 Thermal Park Aphrodite Apollon
8 totally natural thermal water pools dedicated to your well-being and relaxation and a wellness centre where you can enjoy fantastic treatments. All this, together with excellent Mediterranean cuisine, is what awaits you at Thermal Park Aphrodite Apollon.

Opening time::
From Monday to Friday
9:00 - 18:00

FROM HOTEL VILLA BINA:
On foot along a flowery and panoramic avenue that crosses the hill of the Sant'Angelo village (15 min) or 5 min Golf Car € 4.00 per person